Course details
【Lunch Limited ★ Private Party Course】 Soft drink 60 minutes Drinking and drinking All 4 items 1980 yen ※ 15 people ~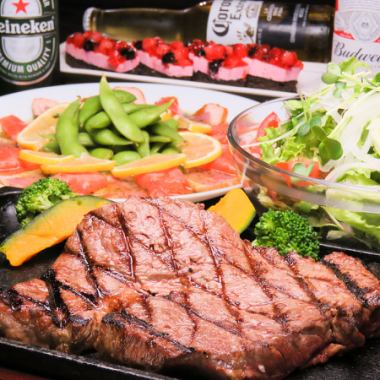 1980 yen
★ + 500 yen for alcohol as well as all-you-can-drink OK
All-you-can-drink available

■ All you can drink for soft drinks (★ + 500 yen for 60 minutes change to all you can drink alcohol! ※ All participation by the group is mandatory.)
Reservation deadline

Visit of hope the day before until 21:00
Available days for reservation

Monday - Sunday - Public holidays - Holidays
Those who wish to party at lunchtime ◎ New store debut limited party plan is newly appeared ★ Soft drinks are all you can drink so students can use for launch, lunch farewell party and mama party! Up to 25 people OK! !
Course menu
Assorted appetizer
· Roasted duck
- Edamame
· Salmon marinade etc.
■ JOLLY'S Green Salad
■ JOLLY'S Steak 100 g (in case of ※ 4 people)
■ Today's dessert
※ Because it is possible to prepare a plan of 2000 yen ~ according to your budget, please do not hesitate to consult us.
There are some content changes due to purchase · season etc.Please note.
All-you-can-drink menu
· ■ Soft drinks
· Cola / Gingeraire / Orange Juice / Calpis / Oolong Tea / Ice Coffee / Ice Tea
2018/05/29 update